(From the Linzards of the Linoast web site…)


Wizards of the Coast (WOTC, a subsidiary of Hasbro, NYSE: HAS) has long held a monopoly over the collectible card game known as Magic: The Gathering (MtG). We at Linzards of the Linoast have been working, along with several prominent MtG players, such as Trey Van Cleave, to produce an open source version of the popular game, one that combines all the features one would expect from the original, yet offered under the GPL. The result of this work is Open Magic!


The requirements for using Open Magic are as follows: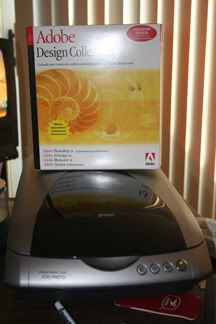 1 Collection of physical MtG cards
1 Pair household scissors
1 Pack standard issue index cards
1 Pen
1 Stapler pre-loaded with staples
1 Scanner
1 Computer capable of running Adobe Photoshop™
1 Copy of Adobe Photoshop™
1 Color Printer
1 Set of standard issue card sleeves to fit MtG cards
As you can see, the barrier to entry is very low!


In order to use Open Magic, simply do the following:



Step One: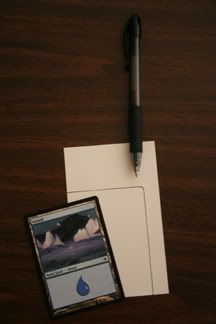 Trace one of you regular MtG cards on one of your notecards, using some type of pen. To facilitate proper integration with standard MtG cards and sleeves, make sure to trace carefully!
(Linzards of the Linoast recommends not consuming caffeine, alcohol, or other drugs at least 45 minutes prior to beginning tracing to ensure a steady hand.)

Step Two:


Cut out the card you just traced, using your scissors. Again, following the lines in essential for future compatibility.



Step Three: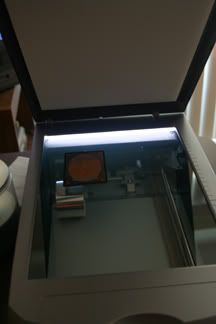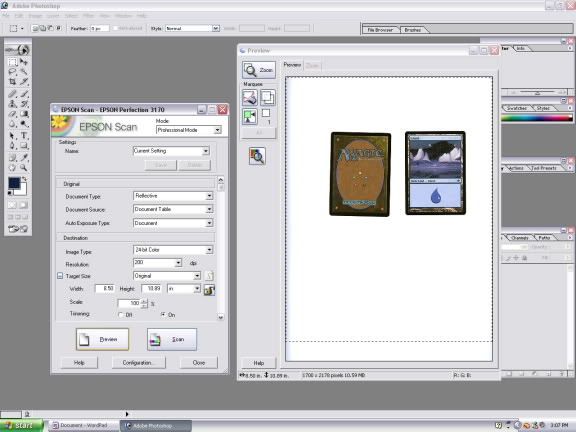 Scan both the front of the card you are intending to use with Open Magic (this is why it is imperative that you own a collection of physical cards!), and the back of any card you choose.



Step Four: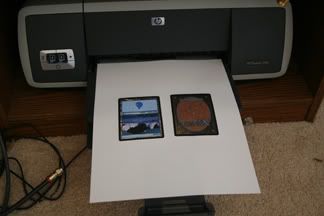 Print out the card front and card back that you just scanned.



Step Five: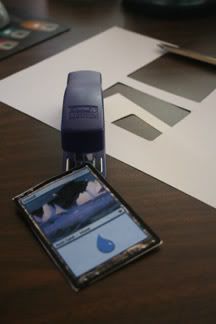 Cut out your front and back printouts, then staple them (make sure you face them the right way!) to the piece of notecard you cut out in Step Two. This is now your Open Magic card!



Step Six: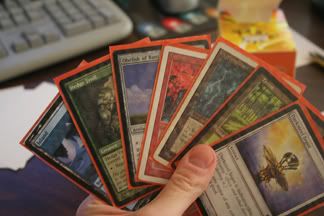 JK, there isn't really a step six (:D)!! Check out this sample hand. It was generated using both the pre-existing, proprietary Magic: The Gathering cards, as well as our new Open Magic island. You can't tell the difference, can you? We thought not!