This article is part of the Rise of the Eldrazi Alliance. Wizards of the Coast is working with Good Gamery, among other fan web sites, to help drum up excitement for the upcoming set. Take a look at the humorous and/or strategic content generated so far, and stay tuned for more new ROE-related articles and 'chops!


---
They're here!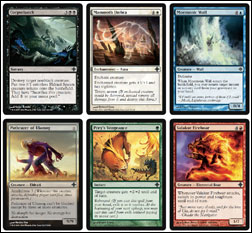 (click for the large version)

UBB code to paste the large version in a forum post:
[img]http://www.goodgamery.com/articles/drazi/all_big.jpg[/img]
Corpsehatch, Mammoth Umbra, Mnemonic Wall, Pathrazer of Ulamog, Prey's Vengeance, and Valakut Fireboar. These are the Monday 6, the six cards given to Good Gamery (among other fan web sites) as part of a spoiler pool.


What follows are the six cards, each with commentary by four of GG's top Magic players/evaluators:


Peebles (Benjamin Peebles-Mundy)


Peebles is an accomplished Magic player and prolific writer for StarCityGames. He played in five Pro Tours, finishing 15th in LA and 22nd in San Diego, and invented Ghost Dad alongside NicotineJones. He is highly involved in the GG community, and is both a GG forum admin and chat op.
Llarack (Jarvis Yu)


Llarack is an awesome Magic Player on Good Gamery. He finished 17th at GP Denver, 27th at GP Philly, day 2 at GP Seattle, 5th place at SCG 5k Richmond, and is currently 8th in the running for MODO Extended Player of the Year. As both a skilled player and a GG chat op, he is universally considered simply… amazing.
NicotineJones


NJ is a longtime member of the community whose ability to analyze and speculate about new cards has earned him mad respect. He invented Ghost Dad alongside Peebles, and he's written several capsule set reviews for Good Gamery, which have been vital in helping our community get a jumpstart on emerging metagames.
Sti (Stuart Wright)


Hailing from England, Sti boasts a European Championships '03 Top-8, three Pro Tour Top-16 finishes, and 2nd Place Great Britain Nationals '07, and has impressive ratings in both Constructed and Limited formats. He's also written for StarCityGames. Read his commentary using a British accent.
Card #1: Corpsehatch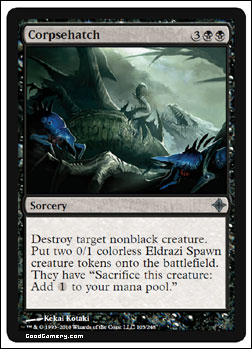 (click for the large version)

UBB code to paste the large version in a forum post:
[img]http://www.goodgamery.com/articles/drazi/card1_big.jpg[/img]
Peebles


I pick Brainspoil and I play Befoul, so I'd be picking and playing Corpsehatch pretty high if it didn't have the whole token-making thing going on. With that tacked on top, I expect to be picking it very high. Having seen only 7 cards from the new set (and therefore being in a position of extreme authority on the topic), I assume that you won't be getting so many Eldrazi Spawns that you'll be able to regularly fire out twelve-drop Eldrazi fatties, so the tokens will probably either chumpblock or immediately sacrifice themselves to effectively reduce the cost of Corpsehatch to 1BB, letting you make another play in the same turn.
Llarack


This card seems unplayable in constructed unless standard slows way the hell down (which I doubt it will for at least another two years).


In limited, it's probably really good unless if RRR (triple Rise) draft turns out to be really fast, which it isn't looking like with a bunch of expensive cards spoiled so far.
NicotineJones


Corpsehatch won't make it in constructed play, but it's a fine limited card that both buys you some time and accelerates you to a huge monster. Like, for instance, an Eldrazi.
Sti


This is a solid limited card and, while a bit expensive, it does provide two chump blockers to help with it being a bit slow. The mana generation is more of a constructed effect and this card is a bit too costly unless you really want Eldrazi for some reason.
Card #2: Mammoth Umbra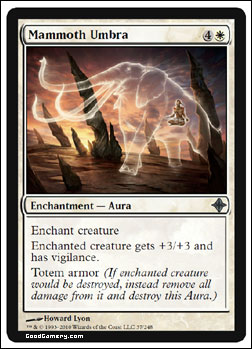 (click for the large version)

UBB code to paste the large version in a forum post:
[img]http://www.goodgamery.com/articles/drazi/card2_big.jpg[/img]
Peebles


How good +3/+3 and Vigilance will be is pretty tough to call at this point, but I'd be surprised if it wasn't relatively dominating. The actual fun part of this card to look at is Totem Armor, which is a pretty good attempt at fixing the automatic two-for-one drawback of auras. I don't think it gets all the way there, as your man is still vulnerable to being removed by something like Journey to Nowhere, or killed while the Umbra is still lurking on the stack, but at least a Corpsehatch off the top won't completely blow you out.
Llarack


This also seems quite unplayable in constructed since 4W enchant creatures are not where you want to be, especially with the existence of Journey to Nowhere, Oblivion Ring and Path to Exile.


Depending on the amount of removal and bounce in RRR, this card could be really good or really bad. Only time will tell with this one.
NicotineJones


[Like Corpsehatch,] Mammoth Umbra won't make it for constructed play either. The good news is that size plus vigilance tends to dominate a limited board, and double-blocking kill your pantsed-up dude will only kill the enchantment. Like all expensive enchant creatures, you're vulnerable to getting blown out by removal, but if you want to build a monster this is a pretty good way to go about it.
Sti


This is another "limited-only" outside of some sort of combo. It has the traditional problem of auras, where you have to be careful to avoid removal in response to this. I do, however, feel this is worth the risk, as it gives you a very large creature that can both attack and defend even if they kill it once. You do want to take it out against blue decks, as having the creature bounced is a backbreaking tempo swing.
Card #3: Mnemonic Wall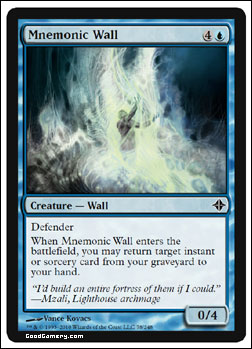 (click for the large version)

UBB code to paste the large version in a forum post:
[img]http://www.goodgamery.com/articles/drazi/card3_big.jpg[/img]
Peebles


Is there anyone here who didn't play with Izzet Chronarch? If you managed to miss Ravnica, the general idea is that you're paying a lot for a body that's not too impressive, so what really matters is what you have in your deck to buy back. If you can rebuy removal spells or things like Peel from Reality, the effect is pretty sick. If you can only rebuy Twitch, you probably don't need to spend five mana on a Kraken Hatchling.
Llarack


This could conceivably see play in Zendikar / Eldrazi block constructed as a card in a control deck. It makes Day of Judgment a lot better, since you can blow the Day of Judgment early and then return it back with this guy, and force them to commit another guy just to get around this.


The value of this card is also very dependent on how fast or slow RRR is. You can basically count on there being reasonable removal to get back with this thing, though.
NicotineJones


The only way Mnemonic Wall makes it in constructed is if there's some kind of a slide effect that makes recursion possible. I think its prospects are grim for limited play, too– 0/4 for 5 mana is just not a good deal.
Sti


To be played in constructed you really need some sort of blue deck that doesn't mind tapping out and returning a removal spell, as a deck full of counterspells can't really afford to tap out for just a 0/4. Zac Hill built a grixis deck of this style but it hasn't proved very popular so far. In limited the type of deck that wants this effect probably prefers the more defensive body over something like the 2/2 body Scrivener provides.
Card #4: Pathrazer of Ulamog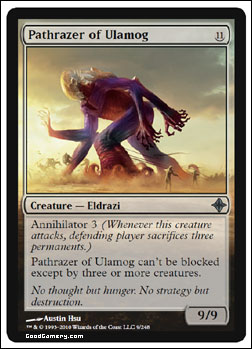 (click for the large version)

UBB code to paste the large version in a forum post:
[img]http://www.goodgamery.com/articles/drazi/card4_big.jpg[/img]
Peebles


This is a gigantic creature. If there were no way to ramp him out, then it would be a strange deck indeed that ever ran him what with the whole eleven mana up front. However, Corpsehatch shows that there will at least be some support for Eldrazis, and boy if you can get this guy into the attack step you will be quite the satisfied little child. Plus he's got like at least 20 fingers.
Llarack


This just seems like a worse Phyrexian Colossus that you can't cheat out at all. Also, why isn't this thing an artifact? If there are more counterparts to Eye of Ugin in Rise itself, then I guess this thing might be played in constructed at some point.


11 drops rarely make the cut in limited, unless if there is a common Eldrazi mana cost reducer or if this format is actually as slow as Onslaught block.
NicotineJones


Pathrazer of Ulamog is outclassed by the Eldrazi we've already seen elsewhere for constructed play. In limited, it's nasty if you can get it down; we'll see if the rest of the set provides tools to do that. 11 mana is just a ton of mana, though, so it'll need plenty of help.
Sti


The high costs of these Eldrazi cards makes me wonder if there will be a number of cards that reduce their cost like Eye of Ugin.
Card #5: Prey's Vengeance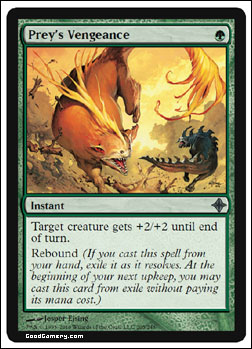 (click for the large version)

UBB code to paste the large version in a forum post:
[img]http://www.goodgamery.com/articles/drazi/card5_big.jpg[/img]
Peebles


Two doses of +2/+2 is (who would have thought) both better and worse than one dose of +4/+4. I think that the "average" use for Prey's Vengeance will be to ambush an attacker of theirs and then push through an attacker of yours, which sounds pretty nice to me, but I know that at some point I'll be alpha-striking and wishing that it would just give me the full effect right now. Rebound, like Totem Armor, is also vulnerable to having the target disappear in response, but I think overall it's a pretty reasonable ability.


As an aside, Kodama's Might was +2/+2 for G with that set's keyword on it, so I wouldn't be too surprised to see a card standing in for Glacial Ray (especially since they can avoid the two-for-one if they have a sacrifice outlet).
Llarack


This card seems to be the most exciting of the cards to me. You can use it early on in some sort of aggressive deck mirror, then get another +2/+2 the next turn for value. The trouble is, it's not particularly great in Boss Naya, so its usage seems limited to Eldrazi Monument green and this card is sort of underwhelming there.


This seems reasonable for limited since you get value out of it as a pump spell and then basically a free bonus +2/+2 next turn.
NicotineJones


Prey's Vengeance is a card that might make it in constructed. Normally, it's going to be a solid combat trick when you play it initially– +2/+2 is generally enough of a boost to swing creature combat your way. The second turn, the other guy just doesn't block your pumped man. Like any creature pump, instant-speed removal is sad times for you. In constructed, you are basically paying for 4 damage to the face spread over two turns that you can sometimes use as a combat trick. That probably isn't good enough, but sometimes very fast green aggro decks exist that want Giant Growth type cards anyway and in that context this may nose over the line. It gets better if the world is full of toughness-based removal, since it can counter some of that.


The rebound mechanic could be interesting with storm and similar mechanics, though.
Sti


People have played cheap Green pump in constructed before and this card will often deal four damage over two turns for a very cheap price. It does have to compete with Vines of Vastwood, but it does have the advantage of being cheaper and spreading the pump effort over two turns can allow you to force through a creature twice in a row. In limited this type of effect can be used to provide a tempo boost, removing a creature for only one mana in a sense and the second casting can help you to finish them off before they can stabilize.
Card #6: Valakut Fireboar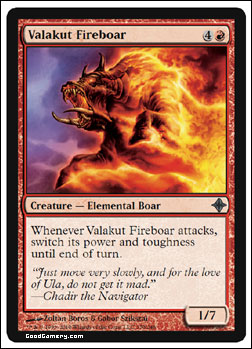 (click for the large version)

UBB code to paste the large version in a forum post:
[img]http://www.goodgamery.com/articles/drazi/card6_big.jpg[/img]
Peebles


Sometimes you really want to attack with your Kami of Old Stone. In that case, wouldn't it be lovely to hit for seven damage instead of one? While I don't think that there will be too many cases of Fireboar-related death, he's a great blocker and he's in the color that's most-likely to be able to clear out the tiny guys that would stymie his attacks, so I think that he'll be pretty threatening to play against. It's nice that being a 1/7 blocker leads your opponent to attack with more guys just to get damage through, making it more likely that you'll be able to live the dream and get your Firecat on.
Llarack


If people don't play removal and somehow a five drop is good enough to hit several times, then yeah, you want this card in constructed. Otherwise, I give it a huge thumbs down.


I have an unhealthy love for cards like this in limited. Suffice it to say, I think it'll probably make your maindeck more often than not, and gets better with each removal spell you have in your limited deck.
NicotineJones


Valakut Fireboar is the kind of man I'm predisposed to like– huge butt, hard to kill, does something useful. There is no way it makes it in constructed, but in limited it's not a bad way to sit back, block some guys, and bide your time for a burn salvo. They have to keep blockers back against the Boar most of the time, because racing a 7-power creature isn't an option; if they get aggressive you could remove a blocker or two to punish them for their impatience. I think the Boar will be reasonably good at creating ground stalls in limited, but it still isn't a high pick.
Sti


This is another limited card that fits best in a defensive Red deck. It provides a large body to protect you, with the threat of attacking for a large number. In practise they will normally have a creature held back to deal with a 7/1, but the very threat of this does force them to hold something back.
Want to weigh in yourself? Hit the forum link below. We'd love to have you join in on the discussion.