This article is part of the Rise of the Eldrazi Alliance. Wizards of the Coast is working with Good Gamery, among other fan web sites, to help drum up excitement for the upcoming set. Take a look at the humorous and/or strategic content generated so far, and stay tuned for more new ROE-related articles and 'chops!


---
They're here!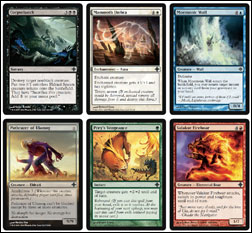 (click for the large version)

UBB code to paste the large version in a forum post:
[img]http://www.goodgamery.com/articles/drazi/all_big.jpg[/img]
Corpsehatch, Mammoth Umbra, Mnemonic Wall, Pathrazer of Ulamog, Prey's Vengeance, and Valakut Fireboar. These are the Monday 6, the six cards given to Good Gamery (among other fan web sites) as part of a spoiler pool.


Click here for our speculative strategy special, with card commentary by some of GG's best players/evaluators:


Peebles (Benjamin Peebles-Mundy)


Peebles is an accomplished Magic player and prolific writer for StarCityGames. He played in five Pro Tours, finishing 15th in LA and 22nd in San Diego, and invented Ghost Dad alongside NicotineJones. He is highly involved in the GG community, and is both a GG forum admin and chat op.
Llarack (Jarvis Yu)


Llarack is an awesome Magic Player on Good Gamery. He finished 17th at GP Denver, 27th at GP Philly, day 2 at GP Seattle, 5th place at SCG 5k Richmond, and is currently 8th in the running for MODO Extended Player of the Year. As both a skilled player and a GG chat op, he is universally considered simply… amazing.
NicotineJones


NJ is a longtime member of the community whose ability to analyze and speculate about new cards has earned him mad respect. He invented Ghost Dad alongside Peebles, and he's written several capsule set reviews for Good Gamery, which have been vital in helping our community get a jumpstart on emerging metagames.
Sti (Stuart Wright)


Hailing from England, Sti boasts a European Championships '03 Top-8, three Pro Tour Top-16 finishes, and 2nd Place Great Britain Nationals '07, and has impressive ratings in both Constructed and Limited formats. He's also written for StarCityGames. Read his commentary using a British accent.
Check out the cards, and stay tuned!