This article is part of the Rise of the Eldrazi Alliance. Wizards of the Coast is working with Good Gamery, among other fan web sites, to help drum up excitement for the upcoming set. Watch for new ROE-related articles and 'chops, and check back on midnight this Sunday night (March 14/15 midnight) for 6 ROE card spoilers.


---
The sunlight dimmed, and a vast shadow enveloped the plain. Towering above the horizon, the Eldrazi terror had finally arrived at Gom Norro valley. Waiting to meet the colossus was a hearty number of warriors, the last line of defense for the people of Gom Norro, in which each of the races of Zendikar was represented.


The renowned heroes looked up at the Eldrazi's facehole in fear. They felt their knees grow weak and their hearts begin to race. They needed someone to help them summon up their courage, to give them the fortitude they needed to face this monstrous creature. They needed a speech, a collection of powerful words to rouse their spirits and elevate their morale.


Their leader, Habbardis the Fierce, stepped forward and turned to face them.


He gripped the hilt of his sword, unsheathing it, and held it aloft.


He then swung his mighty blade around, pointing it directly at the Eldrazi foe, and spoke.


"Alright, you guys go first," he said.


After a few uncomfortable seconds, Habbardis turned back around to face his army, seeming confused that nobody charged past him.


"I don't think you need me on this one, guys," Habbardis explained.


"You got this!" he added.


The warriors began grumbling to one another and lowering their weapons.


"Hey, hey, hey, hey, hey," shouted Habbardis. "Wait. Wait. Just wait. Wait. Stop."


"Remember when we first started this expedition?" he continued. "Grommo, you couldn't even properly tie on your pauldrons!"


Grommo smiled and nodded, blushing.


"And Klissta," Habbardis said, gesturing toward a female elf, "Remember all the trouble you used to have with spear combat? You've all come so far!"


Murmurs of approval began to swell among the warriors' ranks.


"I'm so proud of each and every one of you," said Habbardis, his voice cracking. "After all this time, I really think you're ready to handle a battle, all on your own. I wouldn't say it if I didn't believe it.


"So whaddya say?" Habbardis shouted. "Are you ready to kick some Eldrazi butt!?"


The warriors cheered. Their morale was elevated. Their spirits were roused. Their hearts began pumping steadily and their knees grew strong. They looked up at the Eldrazi's facehole with determination. Holding their weapons high, they charged down the plain.


Except for Habbardis, who fled.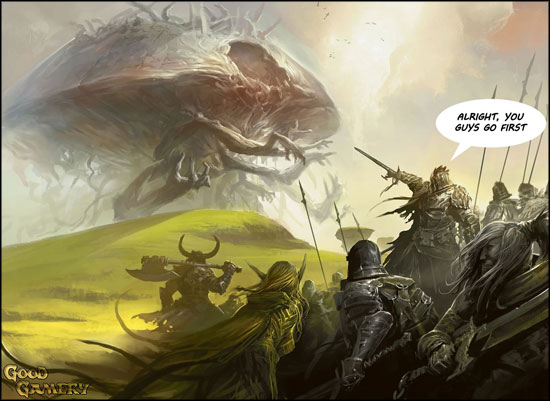 (click for 1400×1020 version)