Archive for the 'music' Category

Tha Gatherin, the debut by Patrick "Tha Innuhvaduh" Chapin and Bill "Spruke" Boulden, is a rap album about Magic: the Gathering that magnificently delivers on all the promises it makes by containing both rap and lyrics pertaining to Magic: the Gathering. The album boldly moves past typical hip hop cliches such as internal rhyme schemes and basslines and onto completely uncharted territory.
More...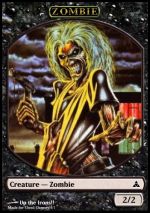 Phyrexians came through means unseen,
They brought us pain and misery.
They killed our tribes, they killed our sea,
They bent our suns to their own need.
We fought them hard, we fought them well
Out on the plains we gave them hell
But soon there came too many to see,
Oh will we ever be set free?
More...